Inspiring the next generation
Friday, 19 October 2018 | Admin
Inspiring the next generation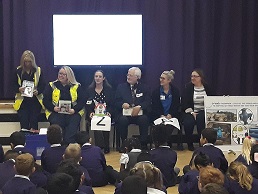 Alison Grundy, one of SureMoves Directors, recently visited a Peterborough primary school to partake in a 'What's My Line' Assembly with years 3 - 6.
This involved the children asking Alison yes/no questions about her job and then trying to guess what her job was. Some of the children did guess correctly.
She then spent about 15 minutes in each classroom answering follow up questions with the children and going into a little more detail about her job and the world of work. A number of classes asked if she had ever been shouted at by her boss and were very surprised that she never has!
The purpose of this visit was to let young people know that there are many routes into law and also to tackle gender stereotypes. With SureMove having all female Directors this is something that we want to support, and feel it is important to let every child know that they can achieve anything they want to whatever their start in life. This visit was in conjunction with Inspiring the Future Charity who Alison volunteers with. More details about Inspiring the Future Organisation are available here (separate site)