SureMove Residential Conveyancing
Moving house can be a very stressful time.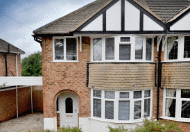 SureMove's professional team of conveyancing experts will help guide you through the process explaining the landmark stages in plain English and ensuring 100% commitment to you our client.
SureMoves residential team offer a 'fresh approach' to your buying, selling and re-mortgage needs. Our staff are not only professional and knowledgeable, but friendly fast and efficient.
Whether you are a first time buyer, moving home, purchasing a new build or just

re-mortgaging, you can be assured Suremove will offer you the service you demand.
The SureMove Method...
Costs
At the outset of the transaction we will provide you with a fixed price quotation, giving you the comfort of knowing exactly what the conveyancing is going to cost you. As an extra bonus if you do not complete your purchase we will waive any further costs.
Contact
We can deal with everything by post, email or telephone - whichever you prefer. We appreciate the difficulties you may have getting time off work, so you do not need to attend our offices for unnecessary meetings. However if you do wish to see us you may call in without having to make an appointment beforehand. Our aim is to make everything as easy for you as possible.
On-Line Tracking
If you have PC access you will be given a password to view your case at anytime by using our online tracking software 'E-Progress'. If you have any questions you can call us and speak to your conveyancer or the the residential team to obtain the best independant advice. For more information on E-Progress (temp unavailable due to technical issues)
Peace of Mind
Leave the job to us and we will move you quickly and with the minimum of hassle giving you true value for your money. Instructing SureMove will be the best move you have made - that is, until you move into your new home! For more information please feel free to contact us by clicking here